Campervanning can be incredibly exciting when you get to have your own home away from home. However, you might find it slightly stressful if you don't have that much space to store all your items that make it feel that bit more homely! So, we've put together a blog that is going to help you ensure you make the most of your campervanning space.
Most storage issues when it comes to campervanning is the lack of space for all your cooking utensils, food, and clothing. When it comes to kitchen storage, we've got some amazing ideas that you can do to make the most of your space:
Pull out shelving, cabinets and hanging storage – To make the most of the space you have in your campervan, it's incredibly important to have cabinets and shelving that can store everything you need for your trips. Pull-out shelving is a great way of making use of vertical space as you can store food items such as pastas, rice, spices and cereals in mason jars that fit into the pull-out storage. Cabinets are also great because you can have both high and low cabinets in your van that can add extra space in which you may not have thought you could use. Hanging storage is also a great way of making use of space.
Bungee Cords and Grips – A lot of people may get put off about having exposed shelving in their campervans, mainly because their loose items could start moving about. However, using bungee ropes to keep everything in place is great for utilising the space and protecting your items. Also grip pads can also come in useful to place on the bottom of your shelving to make sure items don't slip and slide whilst you're driving.
Mason Jars & Containers – Mason jars and containers are a great way for condensing the amount of food packaging you may have and are also great for toiletry holders for your toothbrushes and toothpaste.
Multi-purpose items – Making areas of your campervan multi-purpose is a serious space saver. If you have seating, ensure to make storage boxes underneath so you can lift your seating to access clothing, blankets, shoes etc. This can also work for the 'bedroom' area as well. Using the campervan doors as extra storage space is also great such as having hanging shelves that can attach and detach from the doors.
Hidden tables & sink covers – When it comes to cooking, eating, or working in your campervan, it can be hard to have enough flat table space. However, having hidden tables that are disguised as drawers can be a great way to have hidden space that is accessible as and when you need it. Sink covers are also great ways to utilise flat space, when you're cooking and need extra space for cutting, you can cover the sink and use that extra space. It's also a great for just keeping your van nice and tidy too!
Campervan Awnings
One of the easiest ways to save on space when campervanning is having a small campervan awning which gives you that little bit of extra space for living, to enjoy more time outdoors and for storing items such as food, clothing, and outdoor activity accessories. OLPRO's small campervan Awnings are great ways to add a 'porch' to your campervan. You can set up a table and chairs and enjoy your meals with a great view.
OLPRO Uno Breeze Campervan Awning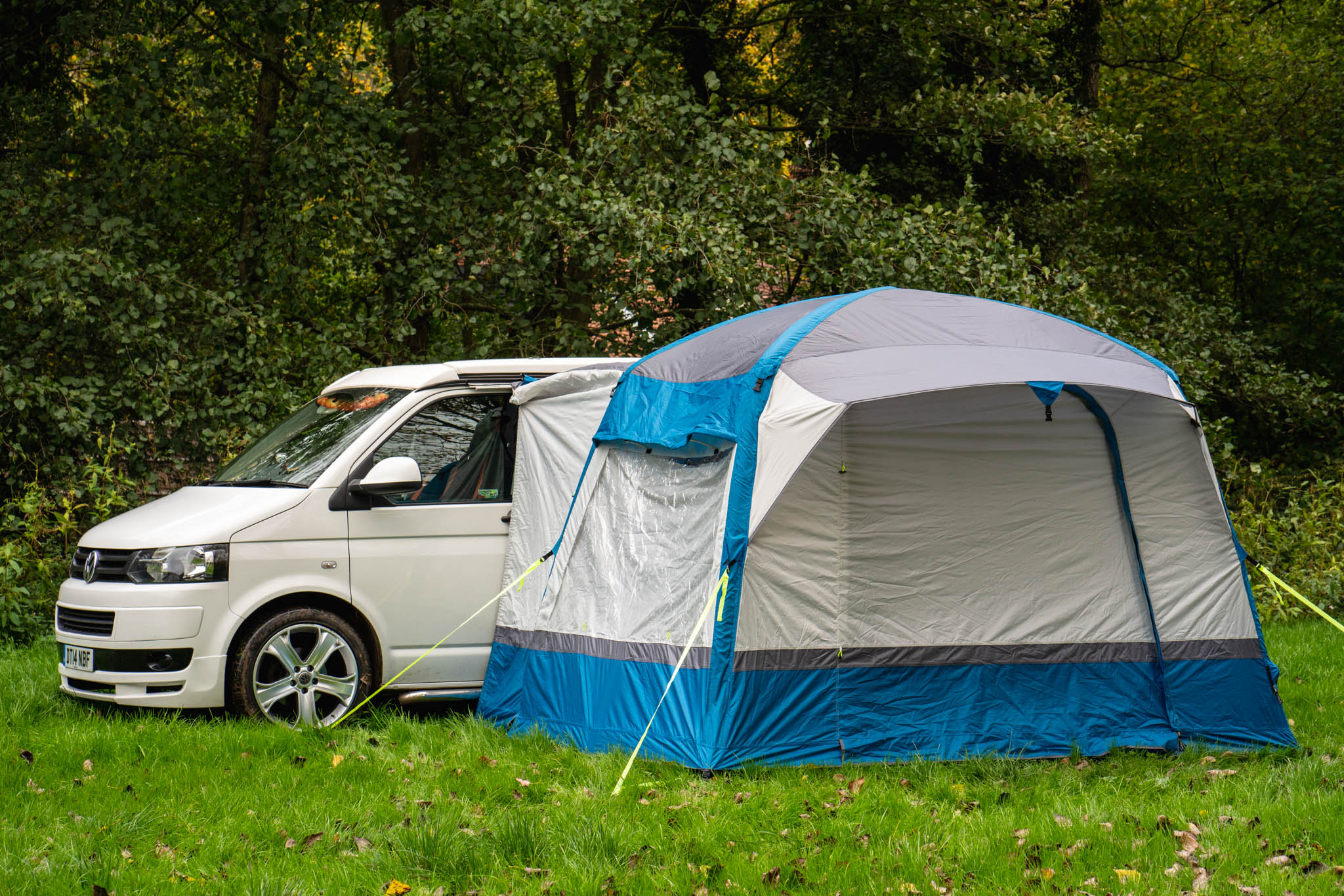 OLPRO's Uno Breeze Campervan Awning is a relatively small campervan awning which is easy to pitch and pack away. It's a great addition for anyone looking for extra space that is minimal. It's great for storing bikes, tables, chairs and is a great space to cook in or give your pets some extra room.
The Uno Breeze is the smallest campervan awning that OLPRO's sells and is available on our website for just £389 GBP.
OLPRO Cubo Breeze Campervan Awning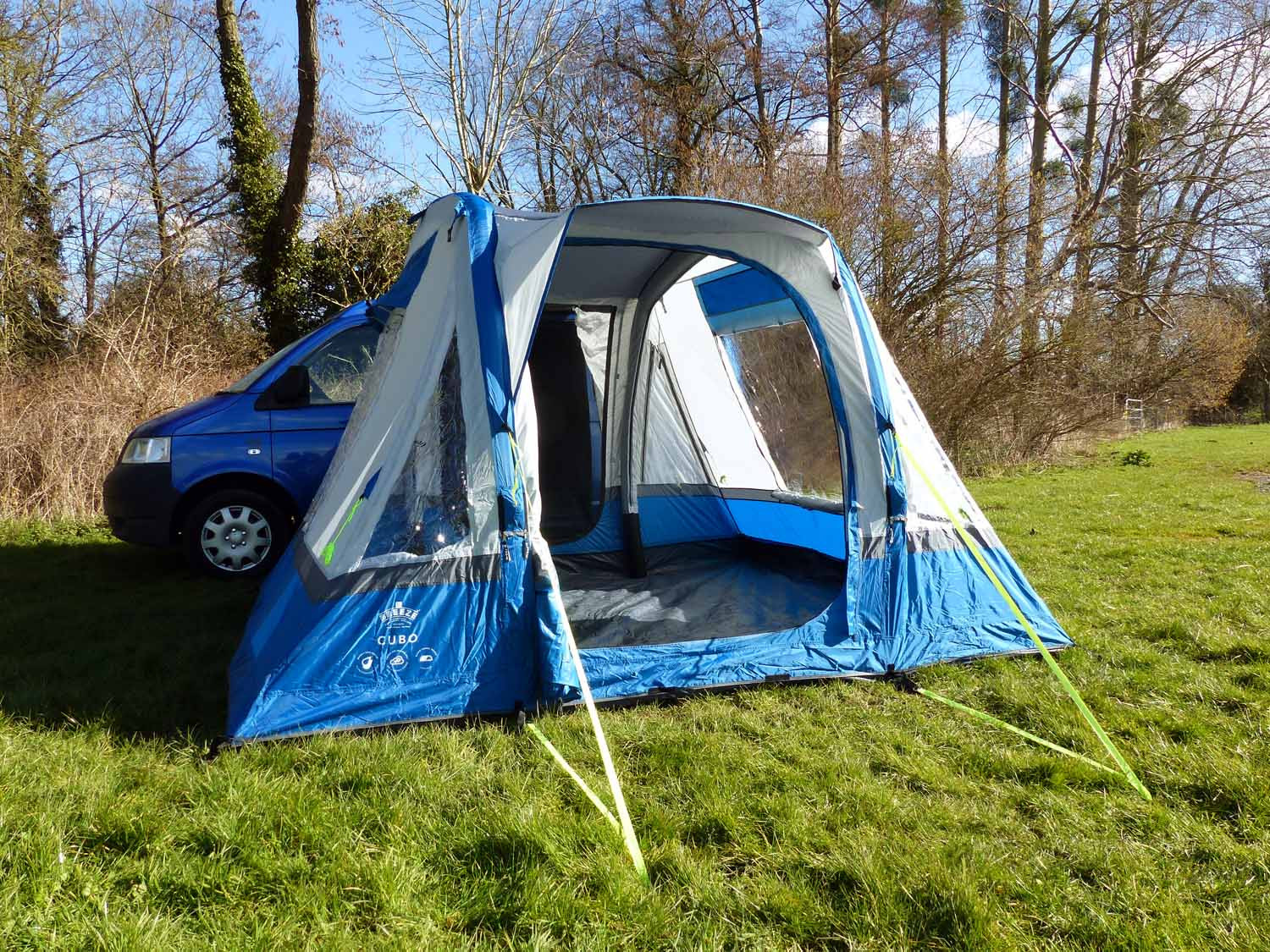 OLPRO's Cubo Breeze Campervan Awning is a small campervan awning that has slightly more room than the Uno Breeze awning. The Cubo Breeze Campervan Awning has extra windows for you to admire the scenery and it takes less time to pitch than the Uno Breeze.
You can order your Cubo Breeze campervan Awning on our website for just £419 GBP.